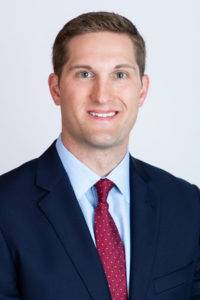 We are excited to announce the growth of our practice and invite the community to join us in welcoming two new doctors to our staff.   Dr. David Love, specializing in spine surgery, and Dr. Clark Walker, specializing in sports medicine and sports related injuries, join Georgia Bone and Joint.
Clark Walker, MD is a fellowship trained orthopedic surgeon specializing in Sports Medicine and sports related injuries.  His primary areas of focus include minimally invasive shoulder, elbow, hip, and knee arthroscopy, shoulder arthroplasty, cartilage restoration, fracture care, and non-surgical management of musculoskeletal injuries. Dr. Walker specializes in advanced treatment techniques of rotator cuff tears, shoulder labral tears, shoulder arthritis, ACL tears, meniscus tears, and cartilage injuries of the knee. He also has an interest in sports related elbow injuries, including UCL reconstruction (Tommy John Surgery), as well as arthroscopic management for debilitating hip conditions including femoroacetabular impingement and labral tears.
Dr. Walker received his medical degree from the University of Mississippi Medical Center in Jackson, Mississippi.  While there, he earned the distinct honor of AOA membership, representing the top 10% of his medical school class. He was also selected into the Gold Humanism Honor Society and was the recipient of the W. Forrest Hutchinson Memorial Scholarship.
Upon graduating medical school, he went on to complete his orthopedic surgery residency at Greenville Health System in Greenville, South Carolina.  During his residency he received extensive training in all aspects of orthopedic surgery, including orthopedic trauma care at a Level 1 trauma center. While in residency he was also involved in sports coverage on the collegiate and professional level. He served as an assistant team physician for Clemson University athletics. Dr. Walker also served as an assistant team physician to the Greenville Drive, a minor league Class A affiliate of the Boston Red Sox. In addition, he was involved in physician coverage of several local Greenville area high schools during football season.
Following residency, Dr. Walker completed a Sports Medicine fellowship at the prestigious Steadman Hawkins Clinic in Denver, Colorado. His fellowship provided additional training in arthroscopy of the shoulder, elbow, hip, and knee along with open reconstruction techniques of the shoulder and knee. While in fellowship, Dr. Walker served as a team physician for the Denver Broncos and the Colorado Rockies. He also served as a team physician for the U.S Ski & Snowboard Team and was the team physician for the Mullen Mustangs high school football team.
Dr. Walker continues to serve in the team physician pool for the U.S. Ski & Snowboard Team along with providing medical coverage for local Coweta and Fayette county high schools.
Outside of work, Dr. Walker enjoys spending time with his wife and golden retriever. They are expecting a daughter in the fall. He is an avid outdoorsman and enjoys hunting, fishing, golfing, and skiing.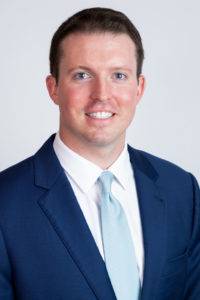 David Love, MD is a fellowship trained orthopedic surgeon specializing in Spine Surgery. His primary focus is the diagnosis and treatment of both surgical and non-surgical conditions of neck and back. Dr. Love specializes in the surgical treatment of common conditions of the cervical, thoracic, and lumbar spine, including neck and back pain, degenerative disc disease, spinal stenosis, spondylolisthesis, radiculopathy (commonly known as a pinched nerve), myelopathy (compression of the spinal cord), spinal deformity/scoliosis, and spinal trauma. He is passionate about restoring patients' function through an individualized approach and prefers nonoperative treatment whenever possible.
Dr. Love is a native Georgian and returns to the metro-Atlanta area after nearly a decade and a half of education and training. After graduating from Pope High School in Marietta, GA, he attended Washington and Lee University on academic scholarship and earned a Bachelor of Science degree in Biochemistry. While at W&L, he was a four-year letterman for the Generals' varsity football team.
Following his undergraduate education, Dr. Love received his medical degree from the Medical College of Georgia. After medical school, he completed his orthopaedic surgery residency at Georgetown University Hospital in Washington, DC. He was elected Academic Chief Resident in his final year, before being selected for a Spine Surgery fellowship at the University of Maryland in Baltimore, a prestigious AO Spine designated fellowship site. While in fellowship, he received advanced training in both traditional open and minimally invasive techniques and cared for complex spinal trauma at the world-renowned R. Adams Cowley Shock Trauma Center.
Dr. Love has published multiple peer-reviewed journal articles and textbook chapters and has presented extensively on orthopedic spine care throughout his training. He is a member of the North American Spine Society, AO Spine, and American Academy of Orthopedic Surgeons.
Dr. Love is excited to return to Georgia and provide patient-directed spine care to the citizens of the Southside. Outside of work, he enjoys spending time with his wife, Diana, and their young son, Jacob, and is an avid golfer.
Call 770-502-2175 to schedule an appointment or click here to book an appointment now.