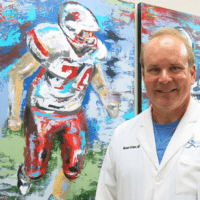 "This is our community, and we want to take care of our own."
Coweta Samaritan Clinic is connected to many generous local healthcare providers who extend our service far beyond primary care. Our interview with Georgia Bone and Joint orthopaedist, Mike Gruber, MD, is the first in a series of conversations with the network of medical specialists who go the extra mile to give high-quality services to our patients.
Q.  We hear from our patients how much it means to be cared for by the Coweta Samaritan Clinic and by you. What does it mean to you to be able to help these patients?
A. "One thing that sets our group apart is that we live here. All of us in Georgia Bone and Joint participate in helping the patients of Coweta Samaritan Clinic because we want to take care of our community. It's nice to be able to do these things for people who are so deserving."
Q. What makes you willing to take on extra work for the Clinic, knowing that you won't be paid for your time and effort?
A. "For one thing, we know that patients of Coweta Samaritan Clinic have been through a careful review that establishes that they are residents of our community who are underinsured or do not have insurance. For example, we may do an elective surgery like rotator cuff repair for a Coweta Samaritan Clinic patient. If we can help her condition, she may be able to get back into the workforce. As her life situation improves, we are able to continue taking care of her when she gets coverage from Medicaid or insurance through her work. That continuous care is the ultimate win for everyone, and we've had successes with Clinic patients."
Thank you, Dr. Gruber, for everything you do to bring health and hope to our neighbors in need!